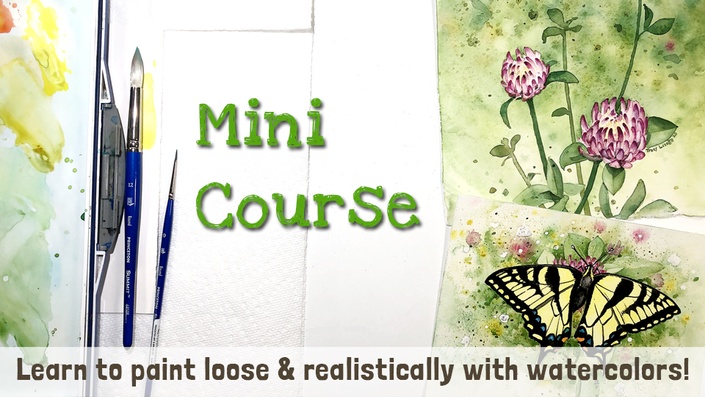 How to Paint Wildflowers Course
Learn to paint wildflowers loosely and detailed with watercolors. Then learn how to add a realistic butterfly in the BONUS painting!
Do you want to paint loose watery layers with watercolors? Layers that capture that natural flow of watercolors without overworking them.
Would you like to learn how to "read the wetness" of your paper? And know exactly when you should add or take away color from your painting.
Do you also want to create a vibrant, and realistic focal point in your painting? In this course you'll learn how to paint TWO different focal points, flowers and a butterfly!
Do you want to design your own original composition? Instead of copying me exactly, you will learn how to design a composition based off of reference photos, thumbnail sketches, and your own imagination!

There's a strategy to painting layers with watercolors, and once you understand that strategy you can create both loose and detailed paintings!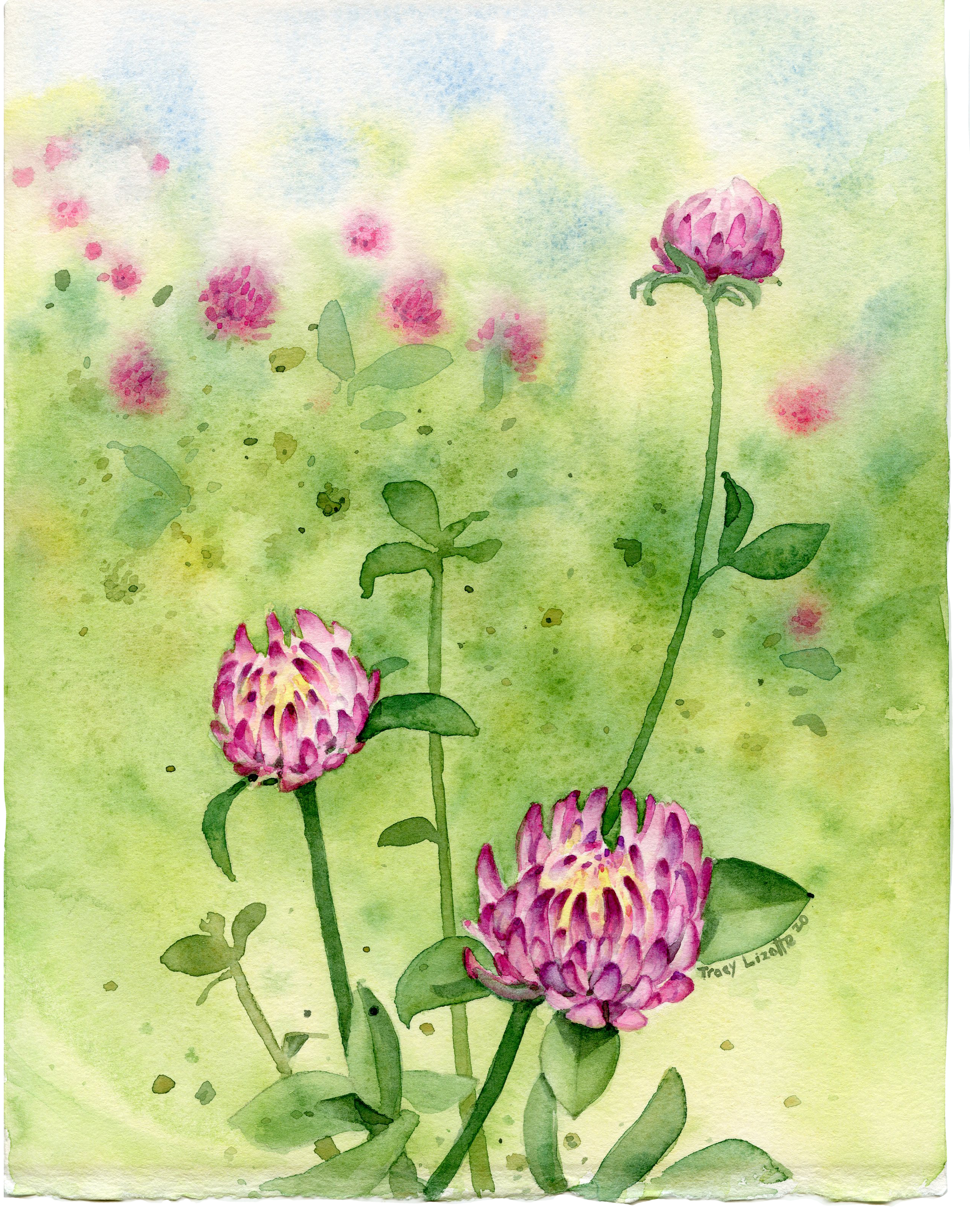 What You'll Learn

How to Design an Original Composition:
You will learn how to create thumbnail sketches to plan out a strong composition. This will help you successfully determine where your lines and shapes will go, and avoiding unfixable mistakes when you paint.
The Strategy for Painting Loose, Watery Layers with Watercolors:
It's easy to overwork a watercolor, if you don't know what the paint will do when you add it to the surface of wet paper. In this course I will show you how to control the paint with water, and teach you how to "read the wetness" of the paper so you know when to create water blooms (and when NOT to create them) to achieve the desired affect you want in your painting.
How to Paint Realistic Clovers in the Foreground:
In this course I will teach you the strategy for building layers of paint from background to foreground, and light to dark. This will allow you to achieve the soft watery look of a field of wildflowers in the background, and the vibrant detailed realistic layers of red clovers in the foreground.
Who This Course Is For
Beginner artists who want to develop their skills for painting both loose and detailed watercolors.

Advanced artists who want to practice restraint when painting with watercolors.

Artists who enjoy painting bright colorful flowers and butterflies with watercolors.

Artists who want to develop their ability to design their own original compositions.
Want to hear more on what you can expect from this course?
Watch the 1st module below and find out!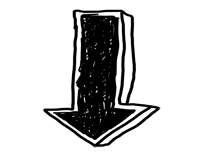 Content Curriculum
Introduction
Available in days
days after you enroll
Tools & Materials
Available in days
days after you enroll
Drawing the Composition
Available in days
days after you enroll
Your Instructor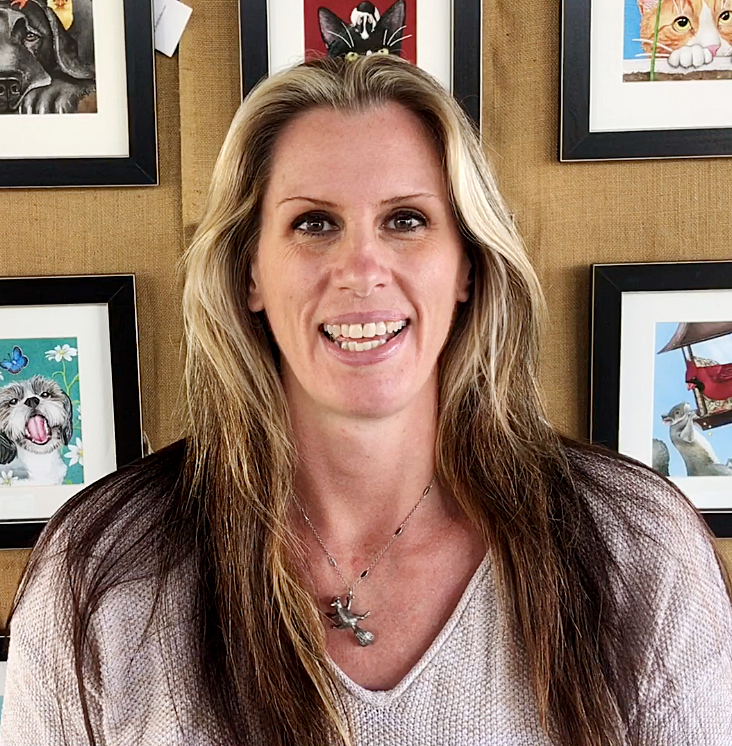 Hi, I'm Tracy!
I'm a watercolor artist from Southern Maine, United States. I have a passion for painting with watercolors, and teaching others the traditional fine art techniques that have been passed down to me.
Most importantly I want to have fun when I paint, and to share that fun with those who enjoy creating art:-)
I'm here to help you develop your own unique style, while learning how to draw, paint, and sell your art!
Want to learn more about me, and my journey to becoming a professional artist? Check out my About Page.
🤗 After you sign up you will be redirected to the course curriculum.

✍️ You get access to ALL the modules immediately! You also have forever access, and can go through each lesson, and watch each video as many times as you want.
🤩 This course comes with multiple reference images, and two complete instructional painting videos supplying you with all the skills, and resources needed to successfully create multiple paintings from this mega mini course!
Frequently Asked Questions
When does the course start and finish?
You get full access to all the lessons in the course upon checkout. This is a self-paced online course, which means you decide when you start and when you finish. You will also be able to watch and re-watch the lessons as many times as you want!
How long do I have access to the course?
You get lifetime access. Hooray! After enrolling, you have unlimited access to this course for as long as you like - across any and all devices you own.
What supplies will I need?
You will need a pencil, eraser, watercolor paints, watercolor paper, 2-3 round brushes (size 12, 8, and 2), paper towels, and a jar of water. I also demonstrate how to use masking fluid in the bonus course, but that is completely optional to use in your own painting. Hopefully you will be able to use what supplies you have on hand, and not have to go out and buy any. I explain a list of suggested materials, and how to use them in the course, but there is no need to get any unless you want to. You also get a downloadable PDF materials list to use as a reference guide.
Are You Ready For More?
Because we are not done yet! It's time for the..
BONUS Painting! 🤩
After you create a field of flowers with your watercolors, it's time to add a big beautiful butterfly to that field in a second painting.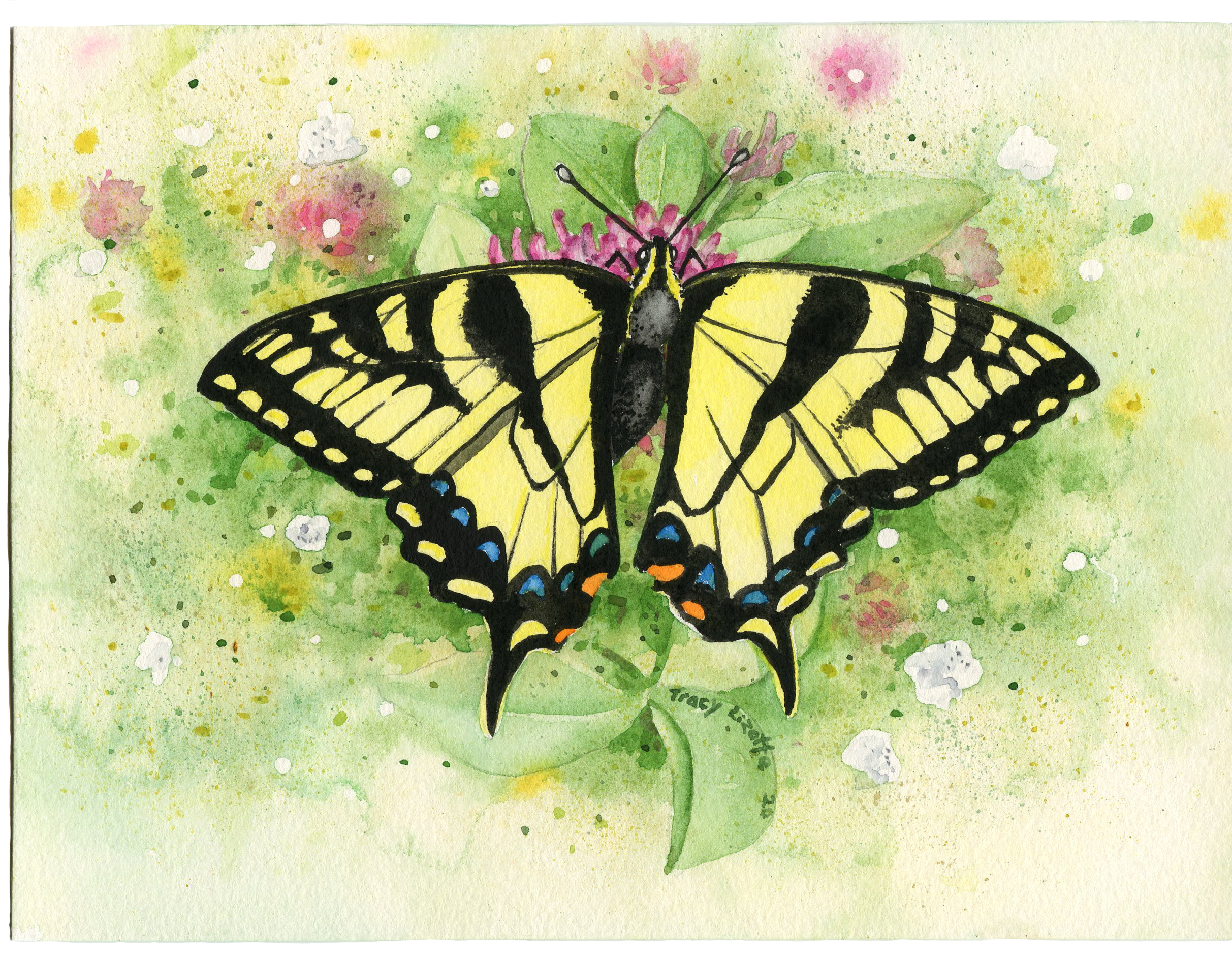 What You'll Learn
How to Draw a Butterfly:
You will learn how to draw your own butterfly, and the benefits that come from drawing vs tracing.
How to Use Masking Fluid:
You'll learn how to mask out the butterfly so that you can focus on painting the background without harming the shape of the butterfly in the foreground.
How to Paint with Black:
Black is a difficult color to paint with watercolors. I will show you how to mix rich dark layers of black, and paint without mixing it with the other colors in your painting.
Get TWO for the Price of One in this Mega Mini Course!
After going through both of the instructional paint videos provided in this mega mini course, you'll be able to take the skills, techniques, and strategies you learned and apply it all to future paintings, further developing your own unique style.